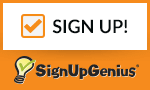 One of the keys to a successful event is Volunteer Support. So, if you're coming to the conference, you may also be open to helping us make it great! Many of you are service-minded so this will be right up your alley.
Here are some details…
It's OK and even great if you want to help with set-up on Friday night and help on Saturday as well.
Volunteers still pay for the conference. We want you to participate in as much of the event as possible; you just work along the way.
You do get a free t-shirt and the satisfaction of being part of changing men, marriages, families, churches and the community!
There are some other positions that we'll need to fill in but weren't listed.  We'll pull some folks in different directions as needed…so, please be willing and flexible.
Check out the list of opportunities and descriptions below then follow the link at the bottom to sign up for a particular slot.
Guys, please note that there are some positions (Hospitality, Lunch/Snacks) where your wives could help. We will have some ladies who help in these areas but they don't come into the sanctuary or workshops. I would also recommend that ladies who want to volunteer come with other ladies and let their men be with the guys.
Feel free to call (804-447-1720) or email (office@noblewarriors.org)  us with any questions.
Volunteer Needs…
Friday Set-up..6:00 – 9:00
Set up (15 Volunteers)
Registration Tables, Stuff Bags, Set Ministry Partner Area, etc.  Folks arrive and get preliminary assignments; we eat dinner together and then get to work prepping for the Conference. Typically a fun time! OK for some ladies to come help on Friday Night!
Saturday
Guide Team (10 Volunteers)
These guys are the backbone of the event. They work in the halls and corridors during all breaks to help men find their way to workshops, shacks and restrooms. They don't miss the event but they are busy during the breaks.
Registration (6 Volunteers)
These guys greet men as they come in, help them find their nametags and hand out the resource bags. They finish their assignment as the last guys come in and the conference stars.
Parking (6 Volunteers)
These guys are on the front lines. They work the parking lots from 7:00 – 8:30… dress warm and be ready to great and direct men as they come on to the property.  These guys finish at 8:30 are inside enjoying the conference for the rest of the day.
Snacks/Lunch AM (4 Volunteers men or women)
These men (and Ladies) help man the coffee pots and snack tables before the conference (7:30 – 8:30), during the morning break (10:15-10:45) and lunch (11:45-1:00).
Lunch/Snacks PM (4 Volunteers men or women)
These men (and Ladies) work with the AM crew to double team lunch then man the water and snack tables during two afternoon breaks (1:30 – 2:00 and 3:15 – 3:30).
Hospitality Room AM (3 Volunteers – ladies)
These ladies help manage the Hospitality room for the first half of the day (7:00 – 11:00)
Hospitality Room PM (3 Volunteers – ladies)
These ladies help manage the Hospitality room for the second half of the day (11:00 – 3:30)
Clean-Up/Break Down (10 Volunteers)
These are the guys who are willing to jump in wherever they are needed to help us close out the day, quickly and efficiently. Some will help in seminar rooms from 3:15 – 3:30; others will break down the Ministry Partner area starting at 3:30; others will help us clear the sanctuary and foyer area as the conference ends at 5:00. Everyone will be finished by 6:00 if not earlier.
Servant (10 Volunteers)
Put me in Coach! If you're just willing to serve… let us know, we'll need help in other areas as well.